Spanish Trail Scout Reservation

Attended the Section SR-1b OA conclave in April, 2015. The Camp Euchee trading post is offering these Chinese lockbacks, with an engraved handle. It's a pretty standard Asian product, about on par with the Chinese product the BSA uses these days. Had this been a Buck or a Case, I would have bought one for myself.
Unofficial Imperial Barlow Knife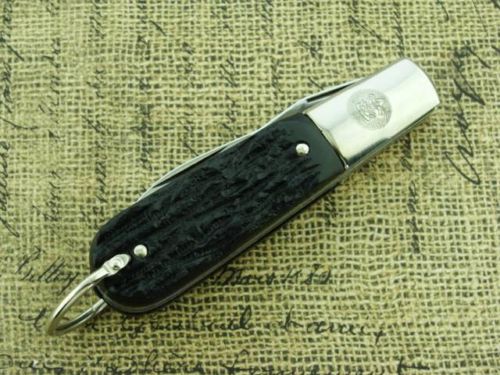 Unofficial Imperial barlow knife. Several of these knives are floating around, purporting to be official BSA knives. There is very little history on these knives, but there is a lot of history on what was designated official BSA issue. The tang stamp places this knife in the 1956-1988 range, and based on other variables, this was most likely in the latter part of that era. 3 3/8" closed, 5 7/8" long open. More than one variety of handles has been seen. Some are jigged composite like this, some are smooth composite.
This knife does not show in any BSA catalog or magazine as official issue. Several other factors preclude this being an official issue. One, Imperial never used a stamped First Class badge as an insignia. It used a "hot stamp" FC badge, Tenderfoot, and a federal shield. The motto, "Be Prepared", is missing. There is no blade etch.Any one of these deviations from the norm of the time does not rule this out as official, but taken all together, it is more likely that this is not official than it is official.
This could have been a short production run by Imperial done on spec, and not approved by BSA. Neither the Kerr nor Holcomb books list this as official.
Should documentation be found that indicates this was an official issue, it will be moved to the Imperial listings.
Camp Daniel Boone Knives 2011
Camp Daniel Boone, in the Daniel Boone Council near Asheville, NC, has two Chinese knives offered in their trading post.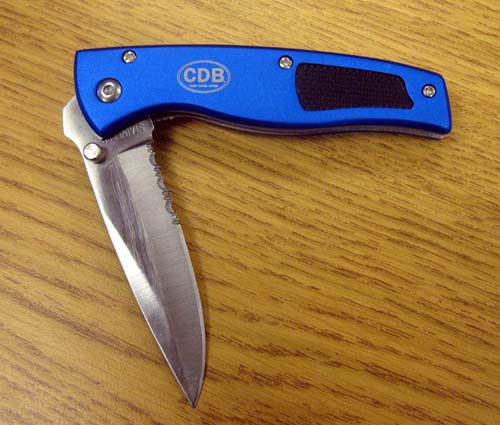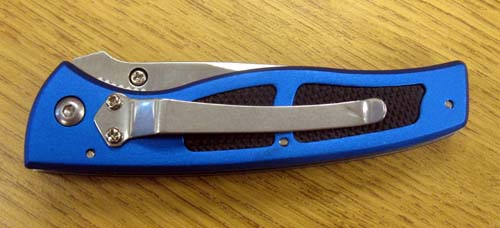 The first knife has a blue, anodized aluminum frame, with black rubber inserts on each side. Closed length is about 4.5", blade length is 3". The single, half-serrated blade has a push style lock, and a knurled thumb lug. The lug is attached with a screw, which does allow for some maintenance. Frame is held together with three Phillips head screws, so repair is possible. This is similar in quality and design to the Frost knives, though camp staff doesn't know their origin. The white oval on the handle is the camp logo. Handle opposite the logo has a pocket clip. Trading post price is $14.99, and the knife comes in a black, velvet presentation bag. Production was current in 2011.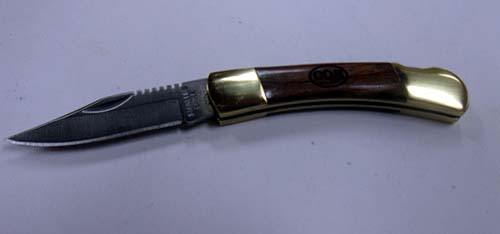 Second knife is 3.25" closed, with a 2.5" stainless blade. Handles are rosewood (or something similar), with the Camp Daniel Boone oval logo impressed in the side. The blade has thumb serrations on the top, bolsters are brass, liners are brass, short thumb nick, and a stainless backspring. These sell at the camp trading post for $11.99, and comes with a black velvet presentation bag. These have typical production issues, such as liners and backspring not fitting flush, and sunken backsprings. Examination of the knife prior to purchase is recommended, because some of these do have very good fit and finish. Production is current in 2011.
2010 National Jamboree Scout Knife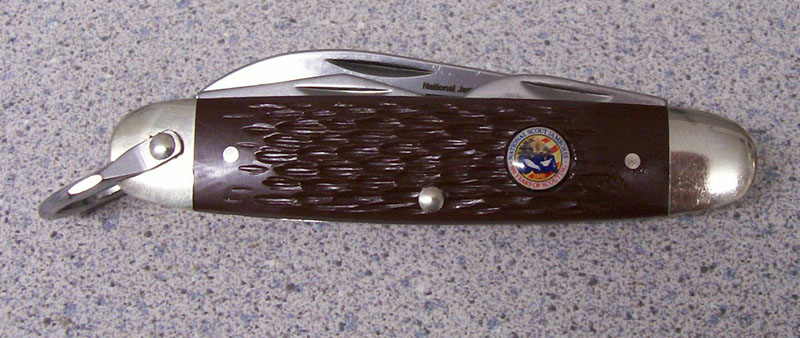 While at the 2010 Boy Scout National Jamboree in Ft. A.P. Hill, VA, one of my sons picked up this great new Boy Scout pocket knife. It's made by Bear MGC of Jacksonville, Alabama, and is an official BSA Jamboree commemorative.
It measures 3 3/4" closed, and with the main blade open, it's 6 5/16". The handles appear to be brown plastic, and the knife contains no brass. Instead, it appears to have stainless liners.
At the jamboree, this knife sold for $40. Less than two weeks after the jamboree, an ebayer is trying to sell these for $140. He sold at least one earlier for $50, and today he's trying to pitch the last of his stock as almost unaquirable since they ran out at jamboree.