TRUA1A, BSA #1510 Steel forged ax head with a 14" hardwood handle. Leather sheath for head included. Manufactured 1975 - today.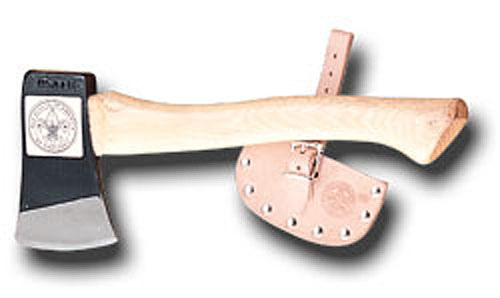 TRUA1A: Hand ax with leather sheath shown
BSA Axes Online Collection
(A work in progress. Please contribute.)
It seems kind of odd, but when the BSA had axes made, their suppliers were a whole different group of manufacturers than the ones they used for their knives.
Names like Plumb, Bridgepoort, and others graced the axes and hatchets, names already known to the American outdoorsman, so having these manufacturers handle ax production shows the BSA went to experienced, qualified, known ax manufacturers for their products.
The item designation for each ax will follow the same system as described on the BSA Knives main page.
If you would like to contribute history, photos, or anything else of interest related to BSA knives, please use the "Contact" link in the Main Menu to the left, or post your information in the forums area. We'll give you credit for what you provide, unless you prefer to be anonymous.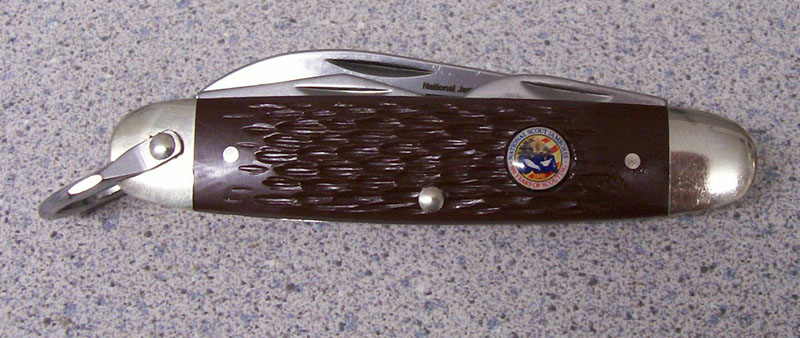 While at the 2010 Boy Scout National Jamboree in Ft. A.P. Hill, VA, one of my sons picked up this great new Boy Scout pocket knife. It's made by Bear MGC of Jacksonville, Alabama, and is an official BSA Jamboree commemorative.
It measures 3 3/4" closed, and with the main blade open, it's 6 5/16". The handles appear to be brown plastic, and the knife contains no brass. Instead, it appears to have stainless liners.
 At the jamboree, this knife sold for $40. Less than two weeks after the jamboree, an ebayer is trying to sell these for $140. He sold at least one earlier for $50, and today he's trying to pitch the last of his stock as almost unaquirable since they ran out at jamboree.
Plumb