Case
W.R. Case and Sons Cutlery Co has been around since 1889, and produced their first BSA knife in 2005. Case was one of the few major American knife companies to not produce an official Scout knife, and wen they finally entered the BSA market, they did it with a wide lineup of Scout blades.
CASC4A, BSA # , Case # CA8044 Spear main blade, screwdriver, can opener and awl, 3 3/8" closed; 2.2 oz, made in America. brown jigged handles, shield is vertical instead of horizontal as on most BSA knives. Brass liner pins. Shield side handle has two notches, one for can opener, other for cap lifter. List price $149.95. Common internet price $95.95. Currently in production. Made in USA.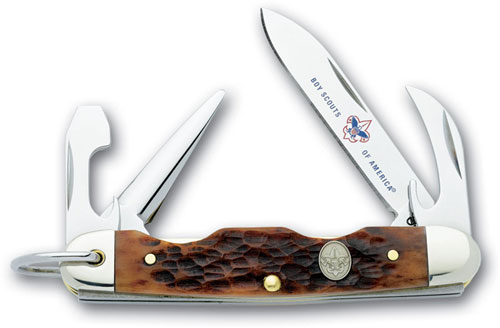 CASC4A: Four blade Case camp knife for the BSA
CASD3A, BSA# , Case #CA8045 This is a three blade dining utensil, with clip blade, fork, and spoon. Closed length is 4 1/8". Cap lifter is made into base of fork. Brown, jigged, bone handle, with what appears to be nickel silver pins. Case calls it a "hobo knife". List price is $142.95, common internet price in 2009 is $90.95. Made in the U.S.A.
CASD3A: three blade dining utensil made by Case for the BSA
CASW2A, BSA# Two blade whittler, stainless blades, "Limited Edition". Blade etch is red, white, and blue. Oval shield with vertical BSA emblem.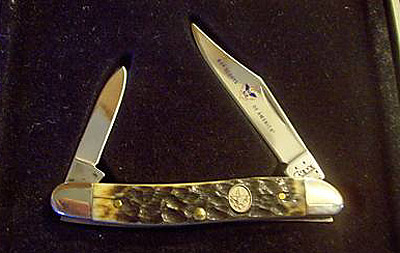 CASN1A, BSA#, Case # 8033 One stainless steel blade, Zytel handles. 3 1/8" long closed, blade length 2". Two versions of packaging. 2008 package had knife half-open, 2011 package has knife fully open. UPC Code 021205080338.  List price $19.74.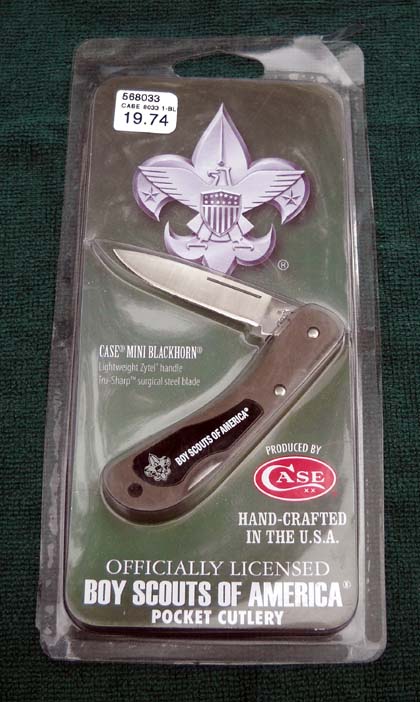 CASN1A: First version package (Photo: Allen McBroom)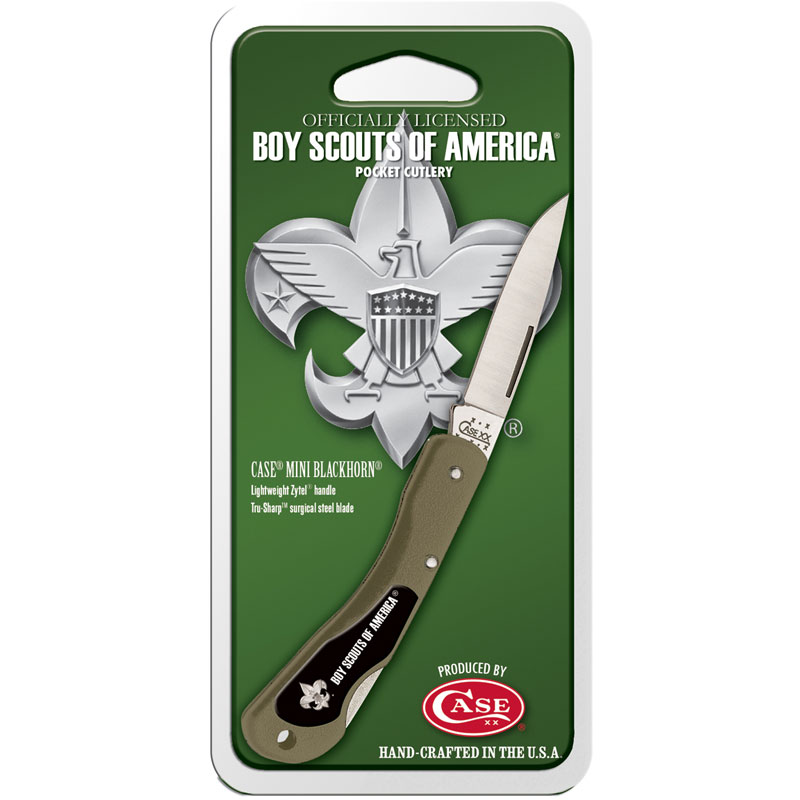 CASN1A: Second version packaging (Photo: Case Advertising)