Unofficial Barlow Knife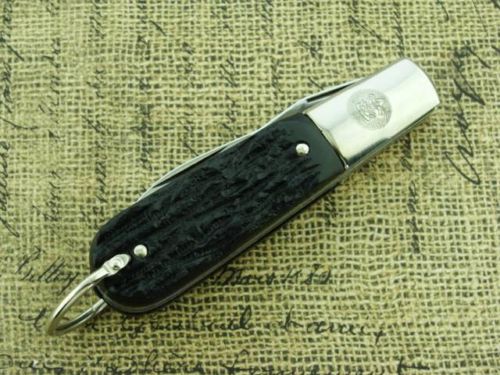 Unofficial Imperial barlow knife.  Several of these knives are floating around, purporting to be official BSA knives.  There is very little history on these knives, but there is a lot of history on what was designated official BSA issue.  The tang stamp places this knife in the 1956-1988 range, and based on other variables, this was most likely in the latter part of that era.  3 3/8" closed, 5 7/8" long open.  More than one variety of handles has been seen.  Some are jigged composite like this, some are smooth composite.
This knife does not show in any BSA catalog or magazine as official issue.  Several other factors preclude this being an official issue.  One, Imperial never used a stamped First Class badge as an insignia.  It used a "hot stamp" FC badge, Tenderfoot, and a federal shield.  The motto, "Be Prepared", is missing.  There is no blade etch.Any one of these deviations from the norm of the time does not rule this out as official, but taken all together, it is more likely that this is not official than it is official.
This could have been a short production run by Imperial done on spec, and not approved by BSA.  Neither the Kerr nor Holcomb books list this as official.
Should documentation be found that indicates this was an official issue, it will be moved to the Imperial listings.