Camp Daniel Boone, in the Daniel Boone Council near Asheville, NC, has two Chinese knives offered in their trading post.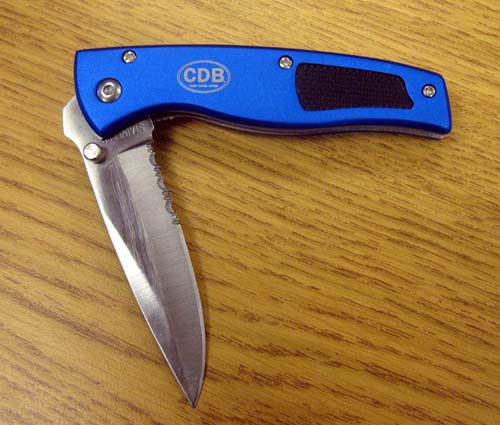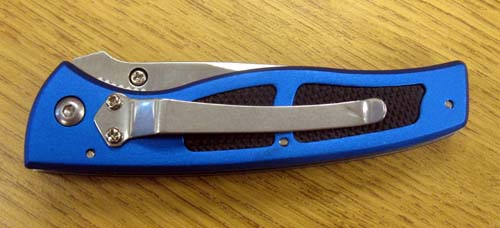 The first knife has a blue, anodized aluminum frame, with black rubber inserts on each side.  Closed length is about 4.5", blade length is 3".  The single, half-serrated blade has a push style lock, and a knurled thumb lug.  The lug is attached with a screw, which does allow for some maintenance. Frame is held together with three Phillips head screws, so repair is possible. This is similar in quality and design to the Frost knives, though camp staff doesn't know their origin.  The white oval on the handle is the camp logo.  Handle opposite the logo has a pocket clip. Trading post price is $14.99, and the knife comes in a black, velvet presentation bag. Production was current in 2011.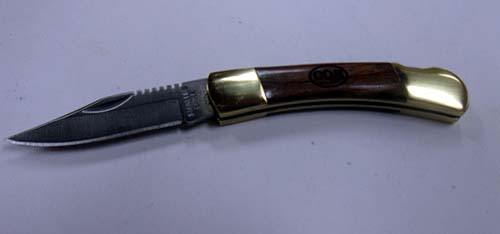 Second knife is 3.25" closed, with a 2.5" stainless blade. Handles are rosewood (or something similar), with the Camp Daniel Boone oval logo impressed in the side.  The blade has thumb serrations on the top, bolsters are brass, liners are brass, short thumb nick, and a stainless backspring.  These sell at the camp trading post for $11.99, and comes with a black velvet presentation bag.   These have typical production issues, such as liners and backspring not fitting flush, and sunken backsprings.  Examination of the knife prior to purchase is recommended, because some of these do have very good fit and finish.  Production is current in 2011.